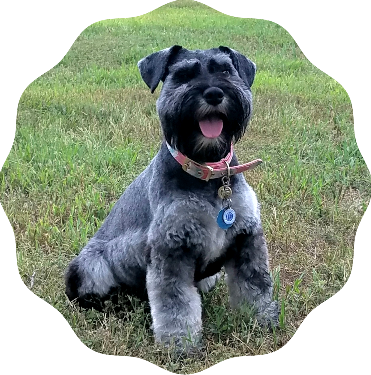 ANNOUNCEMENT!
New arrivals!!!
Hello, my name is Joyce Lewis. My family and I welcome you to Let-R-Buck Farm! We are located in Southeast Oklahoma's beautiful green country just outside of Poteau, Oklahoma.
I welcome you to browse through our website where you will find information about the Miniature Schnauzer breed (obtained from lots of research and many sources). Check back often, as I'm constantly adding to this site.
  My daughters and I raise Miniature Schnauzers for both breeders and the family pet home. We truly love the schnauzer breed and enjoy raising puppies.  We have the traditional salt and pepper, black, black and silver, and occasionally we have some of the "lost colors" including white, liver and some parti colors.
Our Miniature Schnauzers are true farm dogs! You may find them chasing squirrels, swimming in the pond, or chasing after mice. They are always on guard to watch out for us!  And when the chores are done for the day, you will find them sitting at my feet on the porch, or piled up in the porch swing with me, with looks of adoration on their faces, just waiting for all the petting that I can dish out to them…which is never enough!
We are happy to answer any questions you have about our dogs, available puppies, or upcoming litters! Please don't hesitate to contact me with any questions.
Please feel free to take a look around our website and give us a call if you have any questions.  I work as a nurse at a local hospice.  So, if you don't catch me on the phone when you call, please leave a message or drop me a text or email and I will get back with you as soon as possible!
Warning!!! I love to talk about my schnauzers!
Joyce Lewis                                                                 
cell phone (918)649-7216
email: notes2joyce@gmail.com